Reverse Logistics and Returns Management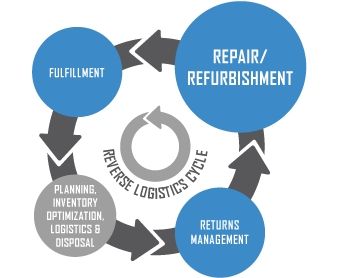 In today's fast-paced and ever-evolving world of e-commerce, reverse logistics and returns management have become crucial aspects of supply chain management. With the rise of online shopping, the process of handling returned goods has gained significant importance for businesses. In this article, we will explore the concept of reverse logistics and returns management, their significance, challenges businesses face, and strategies to effectively handle them.
Understanding Reverse Logistics
Reverse logistics refers to the process of managing the return of goods from the customer back to the manufacturer or retailer. It involves activities such as product returns, reuse, recycling, disposal, or any other operation necessary to recover the value of the returned items. Unlike traditional logistics, which focuses on the forward movement of goods from manufacturer to customer, reverse logistics deals with the post-sales activities and the movement of goods in the opposite direction.
The Significance of Reverse Logistics
Effective reverse logistics and returns management strategies play a crucial role in both customer satisfaction and a company's bottom line. They can have a significant impact on a business's reputation, customer loyalty, and profitability. By efficiently managing returns, companies can minimize costs associated with returned items, reduce waste, and even turn the returns process into a competitive advantage.
Challenges in Managing Reverse Logistics
While reverse logistics presents opportunities for businesses, it also comes with several challenges. Some common challenges include:
Complexity: The reverse logistics process is often more complex than forward logistics due to the unpredictability of returned items, varying conditions, and the need to assess the value of returned goods.
Costs: Reverse logistics operations can be costly due to shipping, handling, refurbishment, and disposal expenses.
Time-sensitive: Returns must be processed promptly to avoid unnecessary inventory holding costs and delays.
Customer Expectations: Customers expect hassle-free returns and quick refunds, imposing additional pressure on brands to streamline their processes.
Effective Strategies for Reverse Logistics and Returns Management
To overcome the challenges associated with reverse logistics and returns management, businesses can adopt various strategies:
1. Streamline and Automate Processes
Investing in technology and automation can significantly improve efficiency in reverse logistics. By implementing a robust returns management system, businesses can track returns, automate refund processes, and streamline operations, reducing manual errors and delays.
2. Implement Clear Return Policies
Having a clear, customer-friendly return policy can help manage customer expectations and reduce return rates. By providing detailed instructions, timelines, and readily available return labels, businesses can simplify the returns process for customers and minimize confusion.
3. Optimize Product Quality and Packaging
Improving overall product quality and packaging can lead to fewer returns and reduce the complexity of reverse logistics. By implementing quality control measures and sturdy packaging, businesses can minimize product damages during transit and customer dissatisfaction.
4. Leverage Data Analytics
Data analytics plays a crucial role in identifying patterns, trends, and root causes of returns. By analyzing return data, businesses can uncover valuable insights to optimize products, packaging, and delivery processes, ultimately, minimizing returns and associated costs.
5. Consider Outsourcing
For some businesses, outsourcing reverse logistics operations to specialized third-party providers can be a cost-effective solution. These providers have the expertise, infrastructure, and resources to handle the intricate processes involved in returns management effectively.
6. Embrace Sustainability
With growing environmental consciousness, adopting sustainable practices in reverse logistics can be beneficial for both the planet and business reputation. By reusing, recycling, or refurbishing returned items, businesses can reduce waste, lower environmental impact, and even create new revenue streams.
Final Thoughts
Reverse logistics and returns management are critical components of any modern supply chain. Businesses must understand their significance and proactively develop strategies to streamline these processes effectively. By leveraging technology, optimizing packaging and product quality, embracing data analytics, and considering outsourcing, companies can transform their returns management from a burden into a competitive advantage.