Efficient Supply Chain Management Solutions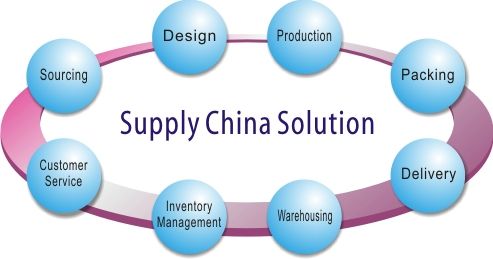 The success of any business lies in its ability to effectively manage its supply chain. A well-executed supply chain management strategy can lead to increased efficiency, reduced costs, and improved customer satisfaction. In today's fast-paced and competitive business environment, companies are constantly on the lookout for efficient supply chain management solutions that can give them a competitive edge.
The Importance of Efficient Supply Chain Management
Supply chain management is the coordination of all activities involved in the production and distribution of a product. It encompasses everything from sourcing raw materials to delivering the finished product to the customer. Efficient supply chain management ensures that products are delivered on time, in the right quantity, and at the right location, minimizing delays, waste, and unnecessary costs.
Efficient supply chain management is crucial for businesses in several ways:
Cost Reduction: By effectively managing the supply chain, businesses can minimize costs associated with inventory holding, transportation, and warehousing. By optimizing processes and reducing inefficiencies, companies can save money and increase profitability.
Improved Customer Service: Efficient supply chain management ensures that the right products are delivered to the right customers at the right time. This leads to improved customer satisfaction and loyalty, ultimately benefiting the business.
Increased Agility: In today's rapidly changing business environment, companies need to be agile and responsive to customer demands. An efficient supply chain management system enables businesses to quickly adapt to changes in demand, market trends, and customer preferences.
Competitive Advantage: A well-optimized supply chain can give businesses a competitive edge by allowing them to deliver products faster, at a lower cost, and with better quality than their competitors.
Effective Supply Chain Management Solutions
Various effective solutions can help businesses streamline their supply chain management and achieve greater efficiency. These solutions include:
1. Digitalization and Automation
Integrating technology into supply chain management processes can significantly enhance efficiency. Digitalization allows businesses to automate tasks, track inventory in real-time, and optimize order fulfillment. Advanced software systems and analytics can provide valuable insights into supply chain performance, helping identify bottlenecks and areas for improvement.
2. Collaboration and Communication
Effective collaboration and communication between all stakeholders in the supply chain are crucial for success. Sharing information, forecasts, and demand data with suppliers, manufacturers, and distributors can enable more accurate planning and scheduling, reducing lead times and inventory levels.
3. Lean Principles
Implementing lean principles, such as just-in-time production and waste reduction, can improve supply chain efficiency. By minimizing waste, optimizing inventory levels, and eliminating non-value-added activities, businesses can streamline their operations and reduce costs.
4. Supplier Relationship Management
Establishing strong relationships with suppliers is essential for a smooth supply chain. By collaborating closely with suppliers and building long-term partnerships, businesses can ensure a reliable supply of high-quality materials, negotiate better prices, and reduce lead times.
5. Continuous Improvement
An efficient supply chain management system is an ongoing process. Regularly reviewing and analyzing supply chain performance can help identify areas for improvement and implement continuous improvement initiatives. By constantly seeking ways to optimize processes and reduce costs, businesses can stay ahead of the competition.
Conclusion
Efficient supply chain management is vital for the success of any business. By implementing effective supply chain management solutions, businesses can reduce costs, improve customer satisfaction, and gain a competitive advantage. Whether through digitalization, collaboration, lean principles, or continuous improvement, investing in supply chain management can yield significant benefits in today's complex and fast-paced business environment. By staying ahead of the curve and proactively addressing challenges, businesses can build a resilient and efficient supply chain that drives their success.