Business Transformation: Consulting Solutions for the Future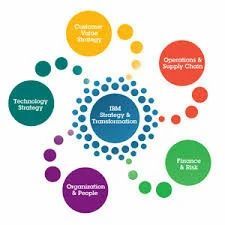 Business Transformation: Consulting Solutions for the Future
Introduction
In today's fast-paced and dynamic business environment, companies constantly strive to stay competitive and ahead of the curve. This has led to an increased focus on business transformation and the need for consulting solutions that can help organizations navigate the challenges of the future.
What is Business Transformation?
Business transformation refers to the fundamental changes that organizations undergo to align themselves with new market realities, customer demands, and technological advancements. It involves a holistic approach that affects various aspects of a company, including its strategy, culture, processes, and technology.
Business transformation is driven by the need to adapt to changing market dynamics, seize new opportunities, enhance operational efficiency, and deliver superior customer value. It is a proactive approach that enables businesses to stay relevant and resilient in a rapidly evolving landscape.
The Role of Consulting in Business Transformation
Consulting plays a crucial role in helping organizations navigate the complexities of business transformation. Consultants possess the expertise, insights, and experience required to guide companies through the process, enabling them to make informed decisions and drive meaningful change.
Consulting solutions for business transformation involve a collaborative partnership between consultants and the organization's leadership. It starts with a comprehensive assessment of the company's current state, identifying areas of improvement, and developing a roadmap for transformation.
Consultants work closely with the organization's stakeholders to understand its goals, industry dynamics, competitive landscape, and customer expectations. They analyze market trends, technological innovations, and best practices to recommend tailored strategies that will drive business growth and success.
Types of Business Transformation Consulting Solutions
There are various types of consulting solutions that cater to different aspects of business transformation:
1. Strategic Planning and Execution:
This involves developing a clear vision and strategy for the organization, aligning it with market opportunities, and ensuring effective execution. Consultants help companies set goals, identify growth drivers, and create a roadmap for achieving sustainable success.
2. Digital Transformation:
In today's digital age, businesses need to embrace technology to stay competitive. Consultants provide guidance on adopting new digital tools, optimizing processes, enhancing customer experiences, and leveraging data analytics for informed decision-making.
3. Organizational Change Management:
Business transformation often requires significant shifts in organizational structure, culture, and processes. Consultants help companies manage change effectively by facilitating communication, employee engagement, training, and creating a change management framework.
4. Operational Efficiency Improvement:
Consultants analyze and optimize operational processes to enhance efficiency, reduce costs, and eliminate bottlenecks. They identify areas for automation, streamline workflows, and implement best practices to drive productivity and competitive advantage.
5. Customer Experience Enhancement:
Delivering exceptional customer experiences has become crucial for businesses of all sizes. Consultants help organizations understand customer needs, develop customer-centric strategies, and design processes that prioritize customer satisfaction and loyalty.
The Benefits of Business Transformation Consulting Solutions
Engaging consultants for business transformation offers several benefits:
1. Expertise and Insights:
Consultants bring specialized knowledge and insights from diverse industries and experiences. They offer an external perspective, challenge existing norms, and provide fresh ideas to drive innovation and growth.
2. Objective Assessment:
Consultants conduct an unbiased assessment of the organization, identifying blind spots, gaps, and areas of improvement. This helps companies gain a clear understanding of their strengths and weaknesses and develop effective strategies for transformation.
3. Accelerated Transformation:
Consulting solutions expedite the pace of business transformation by leveraging the experience and methodologies of seasoned consultants. This ensures that transformation projects are executed efficiently, minimizing disruptions and maximizing results.
4. Scalability and Flexibility:
Consultants provide scalability and flexibility to organizations as they can be engaged on a project basis. This allows businesses to access specialized skills and resources as and when needed, without the burden of long-term commitments.
5. Change Management Support:
Implementing business transformation often faces resistance from employees. Consultants offer change management support to help organizations navigate employee concerns, communication challenges, and cultural shifts successfully.
Conclusion
In the ever-evolving business landscape, organizations must embrace transformation to stay competitive and relevant. Engaging consulting solutions for business transformation equips companies with the expertise, insights, and strategies needed to navigate the challenges of the future successfully. By leveraging consultants' guidance, organizations can enhance operational efficiency, drive innovation, and deliver exceptional customer value, ensuring their long-term success.