24/7 IT Support and Monitoring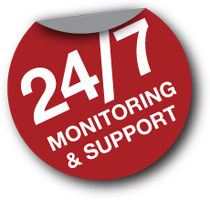 Having reliable IT support and monitoring services is crucial for businesses of all sizes. In today's fast-paced digital world, technology plays a vital role in every aspect of an organization's operations. From managing customer data to facilitating communication and conducting transactions, businesses heavily depend on their IT infrastructure. With the increasing complexity of technology systems, it is essential to have round-the-clock support and monitoring in place to ensure uninterrupted operations and address any technical issues promptly.
The Importance of 24/7 IT Support
Technology-related problems can arise at any time and can have a detrimental impact on business operations. Without proper support in place, even a minor technical glitch can lead to hours of downtime, resulting in lost productivity and revenue. Having 24/7 IT support ensures that businesses can address any IT-related issues immediately, mitigating the risk of extended downtime.
With around-the-clock IT support, businesses can rely on a team of experts ready to assist at any time, day or night. Whether it's a hardware failure, software malfunction, network outage, or cybersecurity incident, having professionals available 24/7 ensures that problems can be resolved as soon as they occur. This minimizes the impact on business operations and allows employees to continue their work without significant disruptions.
Additionally, 24/7 IT support offers peace of mind to businesses. Knowing that there is a team of experts monitoring their systems and ready to respond to any issue provides a sense of security. Businesses can focus on their core operations, knowing that their IT infrastructure is in safe hands.
The Benefits of Continuous Monitoring
Continuous monitoring of IT systems is equally important as timely support. By actively monitoring networks, servers, and applications, potential issues can be identified and addressed before they escalate into major problems. Proactive monitoring helps prevent unexpected failures, maintain system performance, and ensure optimal functioning of business-critical applications.
Through continuous monitoring, IT support teams can detect early signs of problems such as unusual network traffic patterns, server performance degradation, or potential security breaches. With immediate detection of these issues, remedial actions can be taken promptly to minimize or eliminate any disruption to business operations.
Monitoring also allows for performance optimization. By tracking system performance metrics, IT teams can identify areas for improvement and fine-tune the infrastructure to achieve optimal efficiency. This can help businesses save costs, enhance productivity, and deliver better services to their customers.
Choosing the Right IT Support and Monitoring Provider
When selecting an IT support and monitoring provider, businesses must consider several factors to ensure they receive the best service tailored to their specific needs. Here are a few key points to keep in mind:
1. 24/7 Availability:
Ensure that the provider offers round-the-clock support and monitoring. Technical issues can occur at any time, and having access to assistance whenever needed is essential.
2. Expertise:
Choose a provider with a team of highly skilled IT professionals familiar with various software and hardware systems. They should have extensive knowledge and experience in troubleshooting a wide range of IT issues.
3. Proactive Monitoring:
Ensure that the provider offers continuous monitoring services to detect and address potential issues before they impact business operations.
4. Customized Solutions:
Every business has unique IT requirements. Look for a provider that offers tailored solutions to meet specific needs and can scale along with the organization's growth.
5. Security:
Given the rising number of cyber threats, it is crucial to select a provider that prioritizes security. Look for practices such as regular vulnerability assessments, robust data encryption, and adherence to industry security standards.
6. Proven Track Record:
Choose a provider with a solid reputation and positive customer reviews. Look for references and case studies to assess their reliability and effectiveness in providing IT support and monitoring services.
7. Cost-effective Pricing:
While price shouldn't be the sole determining factor, consider a provider that offers competitive pricing while delivering quality services. Look for transparent pricing models with no hidden costs.
In Conclusion
Having 24/7 IT support and monitoring services is essential for businesses to ensure uninterrupted operations, timely issue resolution, and optimal performance. By selecting the right IT support and monitoring provider and implementing continuous monitoring practices, organizations can stay ahead of problems, minimize downtime, and focus on their core goals. Invest in reliable IT support and monitoring to safeguard your business's growth and success in today's technology-driven world.